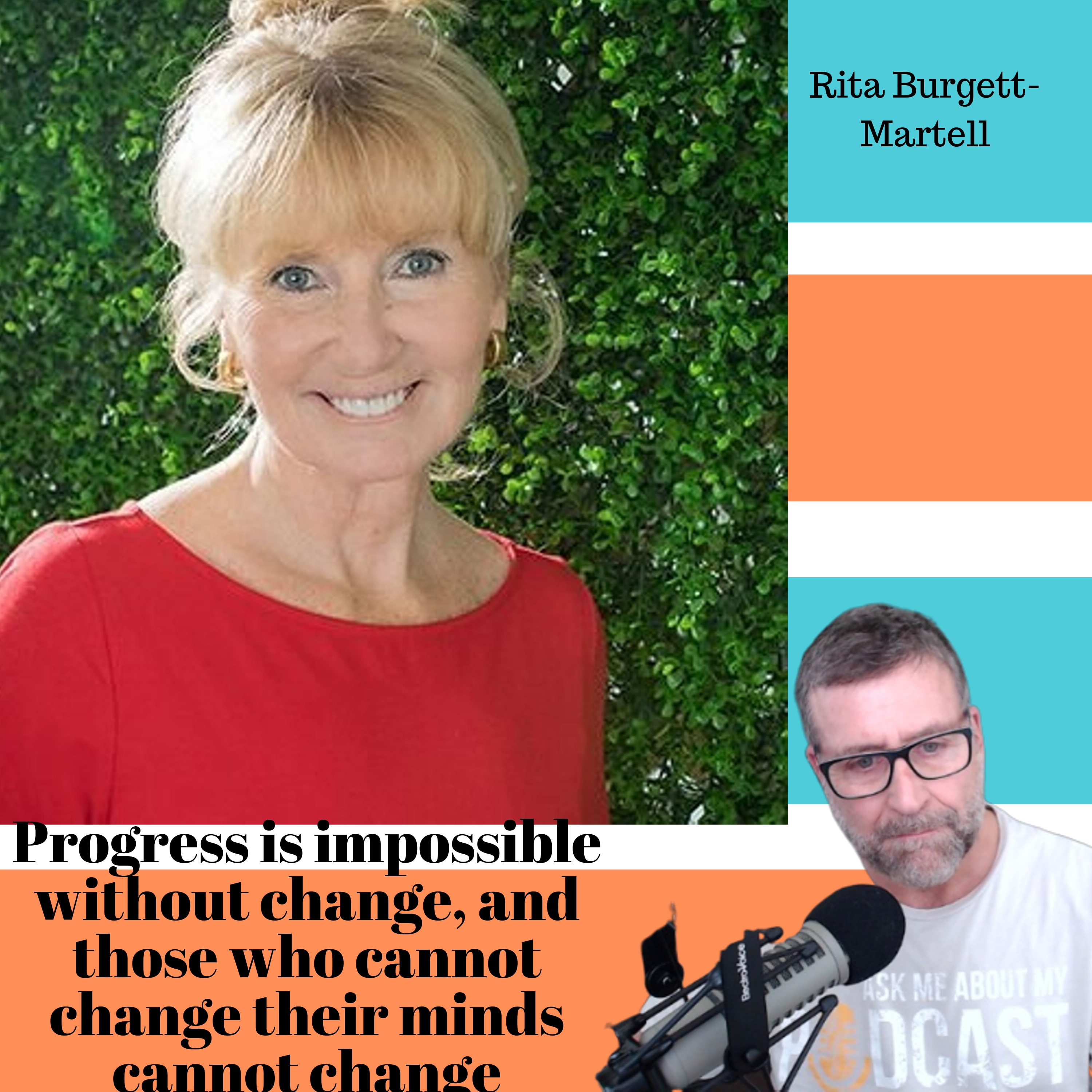 [Rita Burgett-Martell] (https://www.linkedin.com/in/ritaburgettmartell/) —is an organizational change consultant to Fortune 500 clients, career coach to more than 11,000 individuals, and author of two books: "Change Ready! How to Turn Change Resistance into Change Readiness" and "Defining Moments: Seizing the Power of Second Chances to Create the Life You Want."
On Today's Yak About Today, you will learn
1. How she became an expert on managing change?
2. Why is it that some people embrace change and others don't want anything to change?
3. What issues are your people struggling with when they seek your help?
4. What is the biggest stumbling block that people run into when trying to make a career change?
5. What keeps us "stuck" and unable to make the changes we need to make even though we're unhappy with our relationships, career, or just our life in general? We dream about a different life but don't do anything but dream.
6. She talks about the  transition process that we go through when something in our life changes and how we can make that time less uncomfortable.
7. What impact does change have on relationships? One partner wants to change and the other one doesn't?
8. Suggestions for dealing with the uncertainty that often comes with change?
9. She also consults with Fortune 500 corporations who are merging with other companies or restructuring departments, what are some of the issues you encounter in the corporate environment and how is that work differently from the work you do with individuals?
10. What advice do you have for people who are dealing with changes they didn't want to happen such as losing their job or the end of a relationship?
----------------------------
"YOU CANT GO BACK AND CHANGE THE BEGINNING, BUT YOU CAN START WHERE YOU ARE AND CHANGE THE ENDING.
The Yak About Today broadcasts deliver on air and online conversations, interviews and stories engaging the Baby Boomer Generation and beyond with discussions, tips and information. "Hosted by an authentic conversationalist, intuitive listener and a boomer himself, David Yakir brings a genuine, down to earth and disarming personality that talks with his audience and his guests without talking at them. David shares Engagement, Education, Enjoyment & Empowerment on air and online for the BabyBoomer Generation delivered with humor, wit and thought."
YOU CAN FIND " YAK ABOUT TODAY" ON THE I HEART RADIO STATIONS - WAXE 107.9, WZTA 1370 AM AND REAL RADIO 101.7 IN FLORIDA AND OF COURSE ON ALL MAJOR PODCASTING SYSTEMS.
</p>iTunes url link: [‎Yak About Today on Apple Podcasts](https://podcasts.apple.com/us/podcast/yak-about-today/id1455658445)
</p>
https://podcasts.apple.com/us/podcast/yak-about-today/id1455658445
</p>
Facebook.com/yakabouttoday
Facebook.com/dyakir
Facebook.com/thepodgeist
Twitter.com/dyakir
Twitter.com/yakabouttoday
Twitter.com/thepodgeist
Yakabouttoday.com</p>
/#fitness
/#technology
/#finance
/#entrepreneurship
/#baby-boomers
/#therapy
/#nutrition
/#thepodgeistnetwork
Write to yakabouttoday@gmail.com