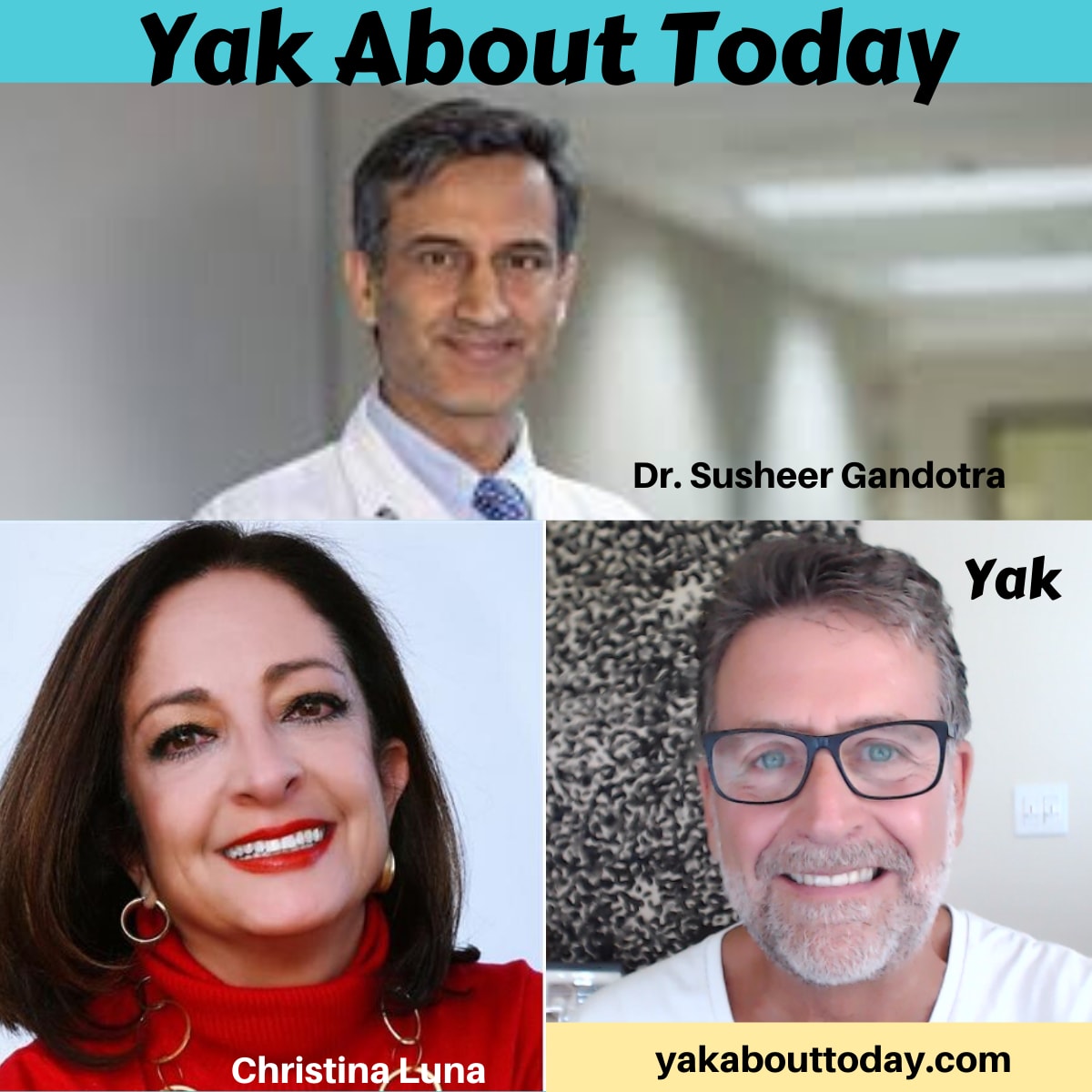 THANKS FOR LISTENING - YAK HERE. TODAY WE HAVE THE PLEASURE OF WELCOMING CHRISTINA LUNA OF CAFE CON CHRISTINA AS THE NEWEST MEMBER OF THE Podgeist Network FAMILY PRODUCERS OF THIS VERY SHOW - AS SHE SPEAKS WITH DR. SUSHEER GANDOTRA ABOUT THE COVAD-19 VIRUS.
THE CORONA VIRUS HAS BEEN AROUND AT THE TIME OF THIS RECORDING ABOUT 10 WEEKS THAT WE KNOW OF. IBUT, IT SEEMS LIKE FOREVER. I THINK ITS OUR OBLIGATION IN THE MEDIA TO ADDRESS ONE WAY OR ANOTHER THE CRISIS - BRINGING YOU THE LATEST INFO - HOW IT AFFECTS US AND EVEN STORIES ABOUT HOW PEOPLE ARE COPING. AS IT HAPPENS, IN TODAY'S PODCAST, WE WERE SCHEDULED TO INTRODUCE YOU TO THE LATEST MEMBER TO JOIN THE PODGEIST NETWORK FAMILY HER NAME IS CHRISTINA LUNA,
HER POPULAR YOUTUBE CHANNEL AND PODCAST CAFE CON CHRISTINA IS FOCUSED ON THE HISPANIC AUDIENCE WITH SPANISH AS THE PRIMARY LANGUAGE AND TRANSLATIONS BY CHRISTINA FOR THE ENGLISH SPEAKING AUDIENCE. HER MISSION IS TO BRING PEOPLE CLOSER TOGETHER BY SHARING THEIR STORIES AND THEIR CULTURES TO THE HISPANIC COMMUNITY AND IN ADDITION TO BRING INFORMATION THAT BENEFITS THAT COMMUNITY.
AS IT WOULD HAPPEN CHRISTINA'S LATEST VIDEO AND PODCAST IS AN INTERVIEW WITH Dr. Susheer Gandotra, MD. Dr. Gandotra is an infectious disease specialist AT LEHIGH VALLEY HOSPITAL, LOCATED IN EAST STROUDSBERG PENNSYLVANIA. SO NOW I'D LIKE TO TURN OVER THE MIC TO CHRISTINA AND WELCOME HER TO THE FAMILY. AHORA ME GUSTARÍA VOLVER EL MIC A CHRISTINA Y BEE EN VEN EAR LAY A LA FAMILIA.