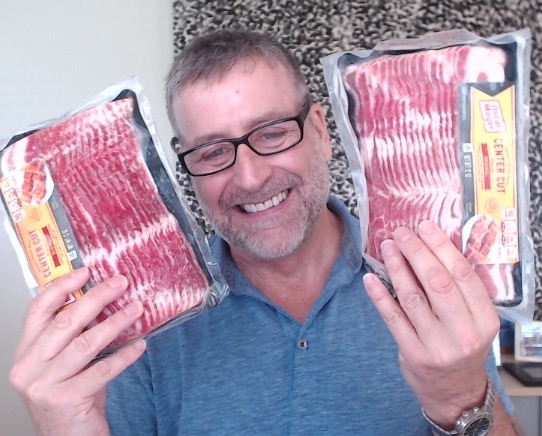 I woke up that morning in a suite at the Luxor Hotel in Las Vegas. I felt terrible.
I was in town for a trade show and the night before a client had taken me to dinner. We ordered these massive, hundred-dollar steaks, drank several glasses of wine, and gorged ourselves on ice cream and desserts.
I'd brought the leftovers back to the room and they were still sitting on the counter. I glanced around the room. Although they had upgraded my room to a suite, the place was run down and sad. There was a Jacuzzi in the middle of the room and the place reeked of alcohol a previous guest had spilled.
I got out of bed and looked at myself in the full-length mirror. I was six-foot-two and I weighed 235 pounds I carried it well, but, not well enough. I felt sick. I was flabby and tired and filled with regret and remorse. I was going through my second divorce, I was in a lawsuit with my first wife, and my blood pressure was so high that my doctor had put me on medicine to control it. Vegas baby!
As I stood in front of the mirror, I asked myself, "How the hell did I get here?"
Part CEO, part personal development wonk, and part biohacker info geek, King is a self-confessed serial entrepreneur. While his favorite book list contains many success-oriented and personal-development classics, the classic definition of achieving success (e.g. make a lot of money) is not what inspires or motivates King. He follows more of a "you aren't doing well unless you're also doing some good" line of thinking. King's company has been built around the simple principle of "do the right thing."
Founded by King in 1999, Stevia Brands Inc. is one of the largest importers, manufacturers and distributors of clean-label sweetening systems and natural sweeteners. Emulating such renowned entrepreneurs such as the Wright Brothers and Steve Jobs, King started his company by first asking the critical question, "Why?" Based on the understanding that it's only by determining the "why" of what you want to do that you can achieve lasting success, King's business isn't simply something he does for a living. It stands as a testament to who he is, what he does and how he lives his life.
King's "why" is simple. A bit of a foodie and health nut, food has always been a passion for King — particularly high-quality food that makes the planet a healthier place and maintains a level of sustainability. He founded Steviva as a way to effectively help combat metabolic disease and the "diabesity" (his self-coined term) epidemic in this country by offering clean-label sweetening systems to replace sucrose and high-fructose corn syrup.